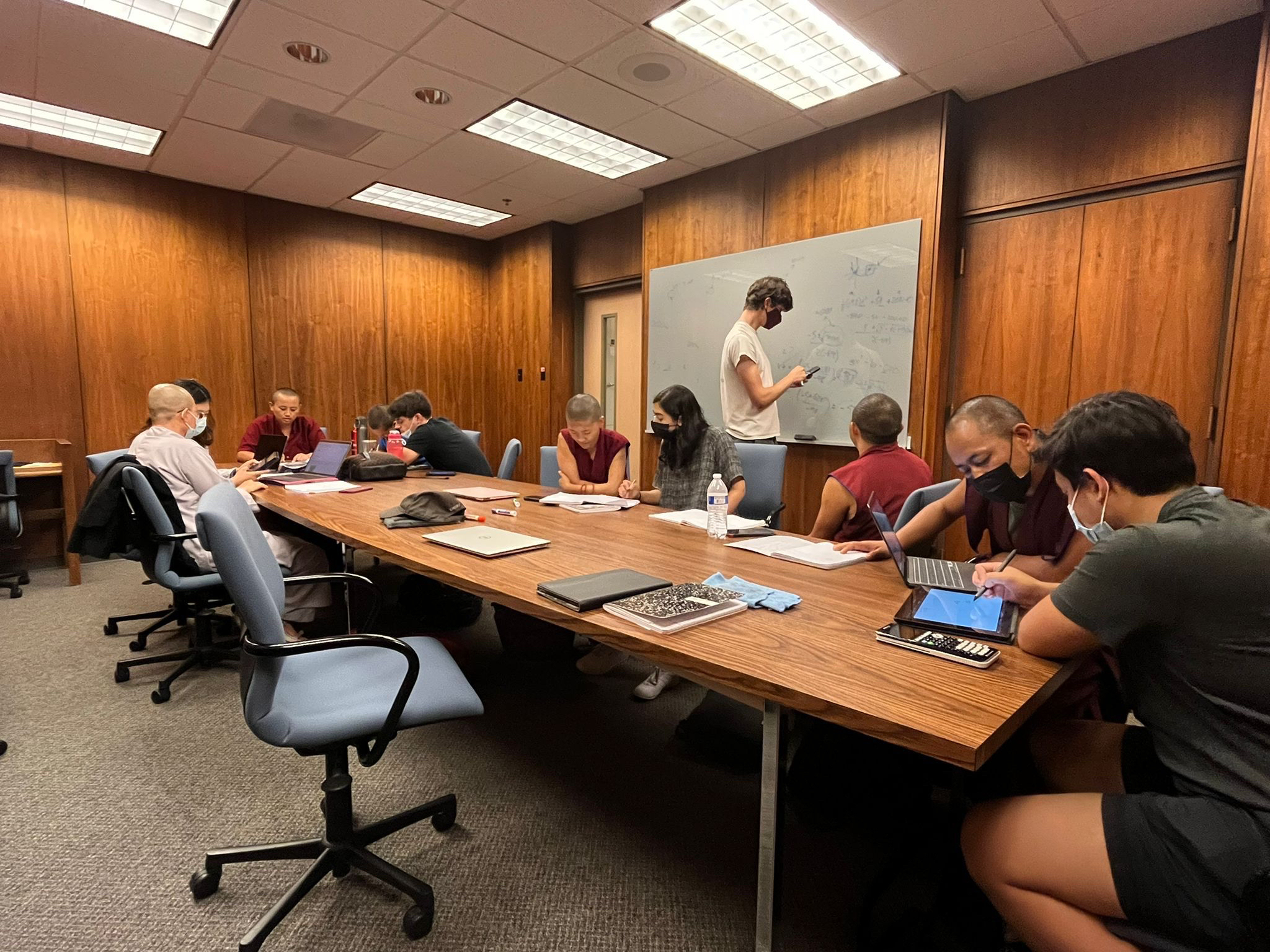 Monastic scholars with their peer mentors during a study session at Emory University.
March - 2023 Connecting Cultures through Engaged Learning and Science: ETSI Peer Mentoring Program
The collaboration between the Emory Tibet Science Initiative (ETSI) Peer Mentors and the Tenzin Gyatso Science Scholars continues to promote scientific learning and cultural understanding. The diligence exhibited by the sixth cohort and their passion to learn has been evident in the way they continue to ask questions and stay engaged with their course material.
This semester, the scholars are continuing their study of physics and scientific research with the support of the mentors. In addition to building upon their physics knowledge base during the mentor sessions, they are also continuing their path in research within formal research labs and are now moving forward with their projects. "It has been wonderful to get to know the scholars over the past year and a half," says David Goldberg, Director of the ETSI Peer Mentoring Program, "and it has been especially great to see them progress not only as students but also as scientists, being the first cohort since the program's inception to become engaged in formal research while on Emory's campus."
Alongside their research and compliance training, the scholars have been developing their critical reading skills by dissecting research papers and scholarly articles with the help of their mentors. "We are incredibly grateful to have played our small role in their journey, as they each make their own plans on how to incorporate their newfound knowledge and skill set in the future," says David Goldberg. Scholars have been working on lab-specific topics ranging from understanding how cognitive based compassion training can affect levels of chaplain burnout to investigating coevolutionary fungi interactions with parasites.
"The scholars are extremely invested in broadening their knowledge in any topic that interests them," says Sarah Forsstrom, a mentor working closely with the scholars. "Their hard work each session to understand physics material to the best of their ability while also involving themselves in professional research labs demonstrates their desire to learn more about the scientific process."
Outside of the classroom, the mentors and scholars have also come together on a more personal level through fun activities ranging from picnics to movie nights. The scholars were able to explore the Botanical gardens during the fall break weekend, enjoying the various attractions and immersing themselves in cultural experiences. These friendships are something we all will cherish as the scholars finish up their time with us. We are proud of how far along they have come and look forward to continuing to work alongside the scholars this final semester.