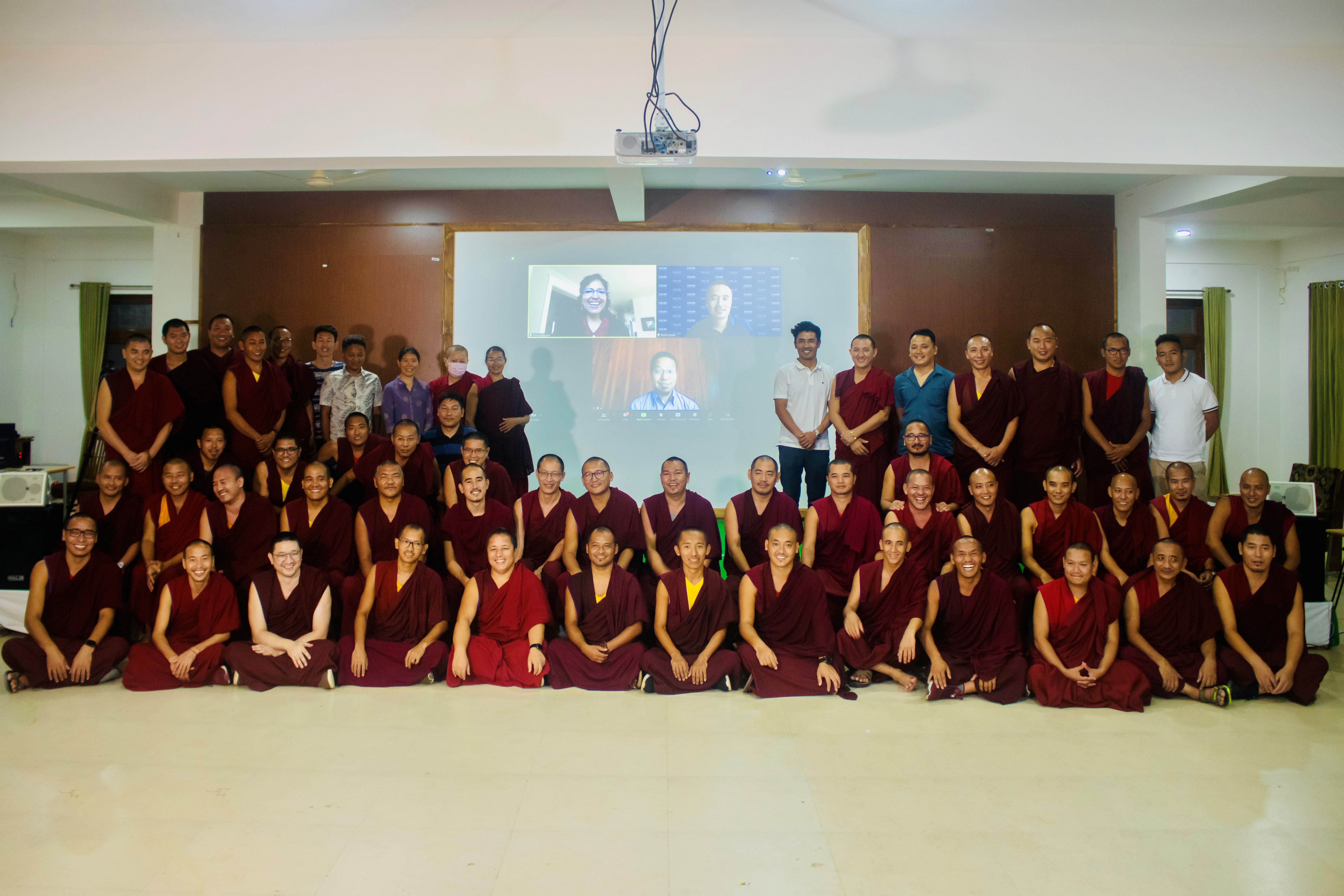 ETSI Summer Pedagogy Program participants with ETSI pedagogy unit leaders Dr. Meena Balgopal and Dr. Tenzin Sonam, and ETSI translator Dawa Tsering Drongbu.
May 2022 - Emory-Tibet Science Initiative Resumes Summer Intensive Programs
Following the successful launch of the ETSI Sustainability Phase with the year one winter intensive programs that included the ETSI Research Methodology Training and Translation Workshop, ETSI is currently completing the Year One Summer Pedagogy Program (May 6th– June 15th). Concurrently, after a 2-year suspension due to COVID-19, the ETSI Implementation Phase Year 4 for nuns has resumed with the Summer Intensive Program (May 9th– June 11th).
Strict adherence to local health regulations has cleared all participants from both summer intensive programs to gather at Drepung Loseling Meditation and Science Center and complete the curricula held in a hybrid format. There are 57 participants from ten different monastic institutions in the pedagogy program (Sustainability Phase) and 40 nun participants from four nunneries in the nuns' program (Implementation Phase).
The Summer Pedagogy Program is one of the two integral parts of the ETSI Sustainability Phase. The program aims to foster indigenous monastic science educators to continue furthering science education in monasteries and nunneries. Venerable Tenzin Legden, a participant from Drepung Loseling Monastery, stated that "as ETSI envisioned, the Summer Pedagogy Program and Winter Research Training were extremely significant for the future and sustainability of monastic science education. These two programs help to develop and support monastic science instructors and researchers."
Monastic participants will engage in 70 virtual sessions and 30 onsite sessions during the summer pedagogy program. During this 41-day course, 18 faculty members from 11 different institutions will cover various scientific topics employing scientific-pedagogical approaches such as active learning strategies, creating lesson plans, and developing assessments. Aside from learning pedagogy methods, the monastics will deepen content knowledge in the areas of hard sciences.
After a two-year hiatus, ETSI has resumed its summer intensive program for nuns (Implementation Phase). This summer, 14 faculty members from 14 different institutions will unpack the year 4 ETSI curriculum that includes electricity and magnetism, developmental biology, and emotions and memory.  The nuns' program will have 48 virtual sessions and 39 onsite sessions. The nun participants are excited to return to Drepung Loseling Meditation and Science Center for their one-month summer intensive program. Venerable Jangchup, a participant from Geden Choeling Nunnery, shared that "I am so pleased to be back in the summer program after two long years. Having no opportunity or environment at the nunnery to learn science, I always consider the 1-month ETSI Summer Program an important part of my life." She further stated that "The ETSI Summer Program opened my eyes to the world of western science while helping me better understand the profound Buddhist teachings and prepare for the science exam during the Geshema's degree (Ph.D. equivalent)."