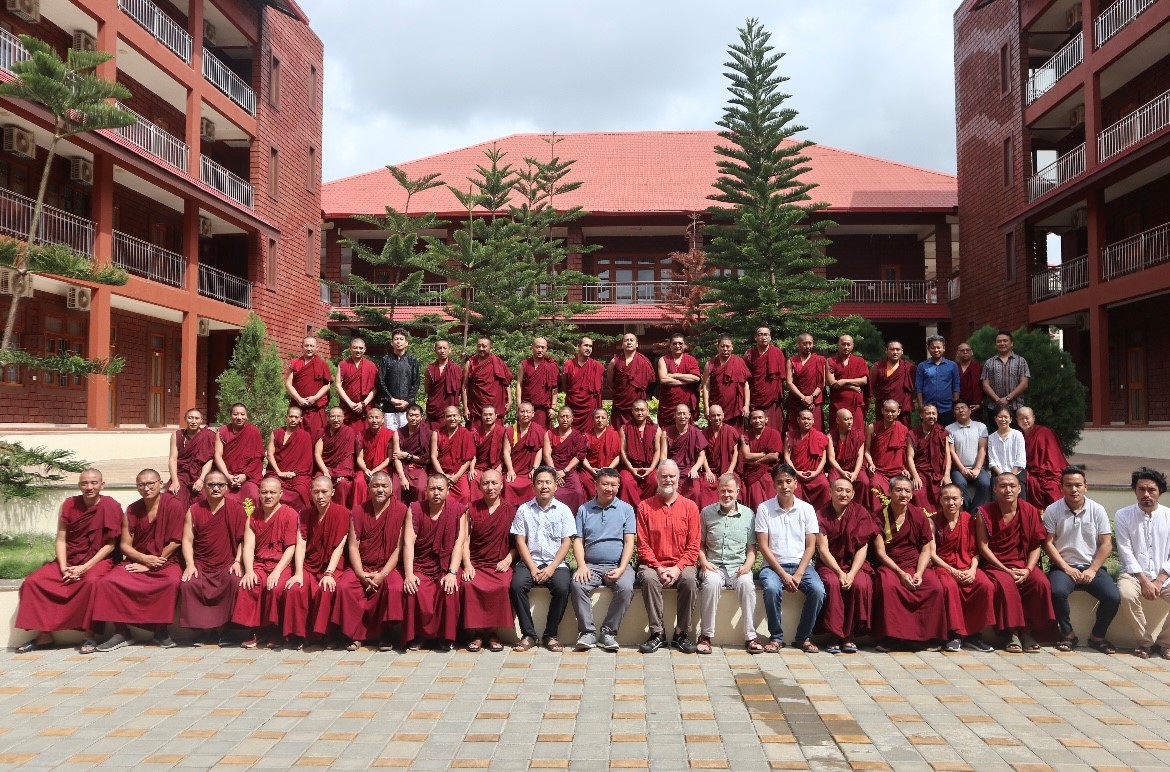 Monastic participants with the faculty of Philosophy of Science and Buddhism and Science Integration – Year 2 Summer Pedagogy Program
June 2023 - Emory Tibet Science Initiative Wraps Up Summer Programs
The Emory-Tibet Science Initiative (ETSI) has successfully concluded its summer intensive program, which included the Year 2 Pedagogy Program and the Year 5 Nuns Implementation Phase Program. These programs brought together faculty members from various educational institutions and universities and enthusiastic participants from thirteen monastic academic institutions.
In the Year 2 Pedagogy Program, 11 faculty members from seven institutions and universities joined, with 59 participants from ten monastic institutions. The participants were eager to enhance their teaching skills and explore innovative pedagogical techniques. 
This summer, the students engaged in six main units: pedagogy, biology, neuroscience, physics, philosophy of science, and the integration of Buddhism and science. At the end of each unit, the monastic participants delivered group presentations to demonstrate their understanding of the topics covered.
Participants expressed their excitement at the opportunity to attend an in-person program after limitations following the Covid-19 pandemic. They enthusiastically absorbed new teaching methods and strategies presented during the summer program.
Concurrently, the Year 5 Nuns Implementation Phase Program focused on unpacking the content of the 5th-year ETSI science curriculum. This phase involved 39 nuns from four different nunneries who eagerly engaged with the subjects of math, biology, neuroscience, and physics. For 30 days, the nuns attended 90 sessions, acquiring valuable knowledge and practical insights. 
Feedback received from monastics emphasized their enthusiasm for the in-person program and their eagerness to acquire new pedagogical skills. As Ven. Stanzin Wangdan from Gomang Monastery and participant of Year 2 Pedagogy program reflected:
"I gained valuable knowledge and acquired new teaching skills that I am excited to implement in my classes. Some of the skills I plan to incorporate include the fish-bowl activity, jigsaw activity, case studies, drawing activities, and group work on presentations. Traditionally, I have not used many class activities, but after attending the workshop, I am eager to adopt these teaching methods when I resume classes."
The successful completion of the Year 2 Pedagogy Program and the Year 5 Nuns Implementation Phase Program stands as a powerful testament to the unwavering commitment of the Emory Tibet Science Initiative (ETSI) to provide comprehensive and sustainable science education within monastic institutions. As monastics ventured deeper into science—learning science pedagogy techniques and research methodology, reflecting on complex questions such as the connection between consciousness and brain—the convergence between science and spirituality that has been ETSI's vision is slowly becoming a reality.