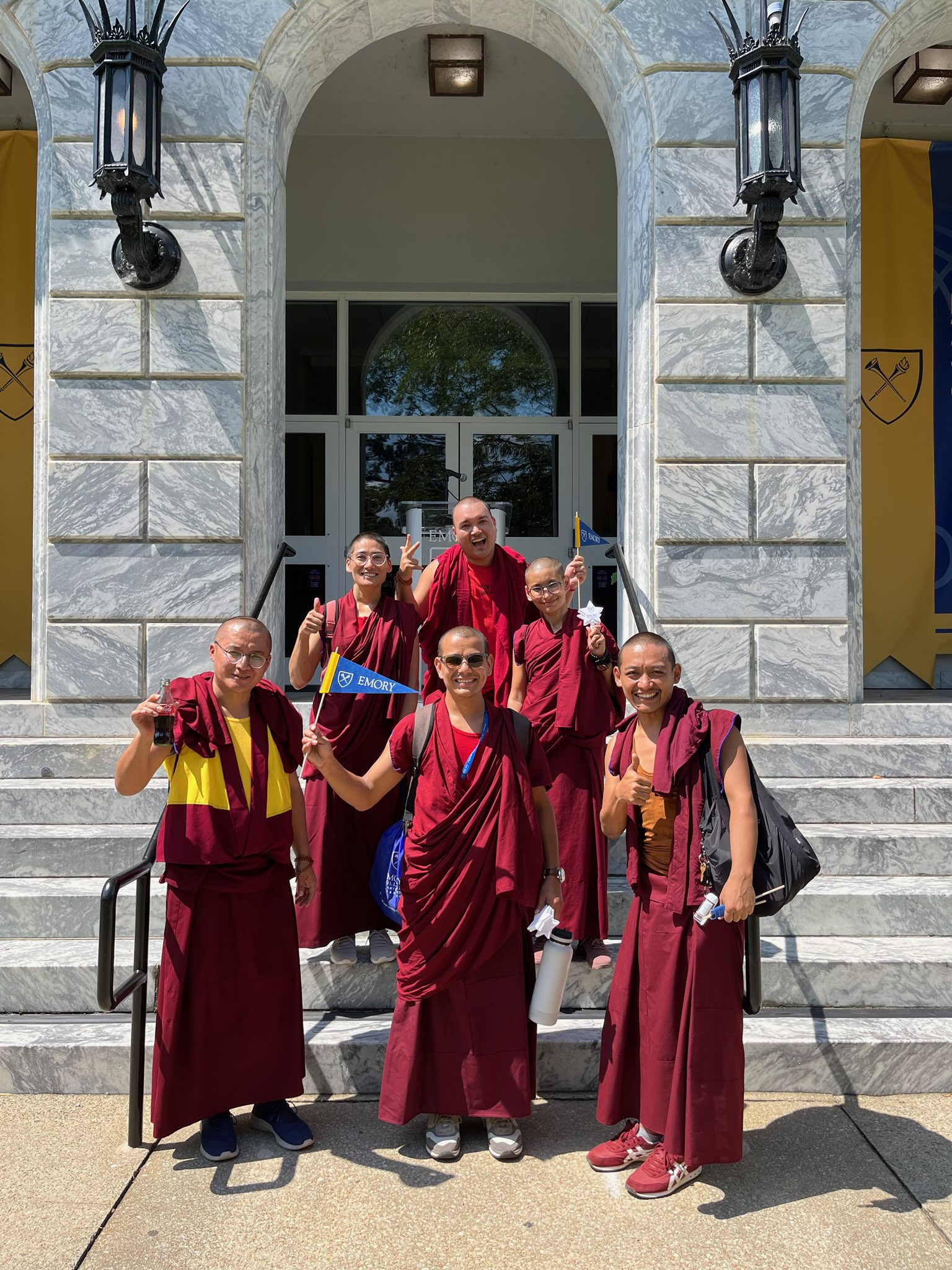 The 7th cohort of Tenzin Gyatso Science Scholars on Emory University's campus.
August 2023 - The 7th Cohort Arrives
The Emory-Tibet Science Initiative welcomed the 7th Cohort of Tenzin Gyatso Science Scholars to Atlanta this past month. Six students arrived in the United States for the first time, monastics and nuns traveling from India, Tibet, and Nepal. They are: Thuptan Palmo, Rinchen Lhamo Gurung, Dakpa Neaten, Tsering Gelek, Tanzin Mutup and Geshe Tenzin Wangdu. 
With the start of the new semester this week, the cohort began their two-year studies in science and English, thus continuing a 13-year tradition of the program and embodying what ETSI strives for—bridging sciences with the contemplative traditions, including the altruistic intention of Buddhist monasticism. 
Although fresh off their long flights, the scholars adjusted quickly to their new off-campus lodging and oriented quickly to CANVAS and OPUS—web-based software that allow institutions to manage digital learning and provide tools for creating digital resources and dissemination.  
Soon after arriving, the new Cohort joined other students for the closing dinner organized by Emory College's Office of Undergraduate Education for new international students. Then, during a particularly sweltering Monday, August 21st, the scholars took time to cheer on their fellow freshmen, proudly using their Emory Clackers and golden pom-poms on the sidelines before joining their fellow students in Emory's annual Gate Crossing and Coke Toast. 
The scholars were hard to miss, standing out amongst hundreds of blue EMORY T-shirts in ceremonial red robes as Emory's President Gregory L Fenves personally welcomed the hundreds of freshmen in attendance. The cohort is deeply curious and enthusiastic to learn and collaborate with their classmates. 
After earning their certificates through Emory, just like the past Tenzin Gyatso Science Scholars, this group too will return to support science education in the monasteries and nunneries.