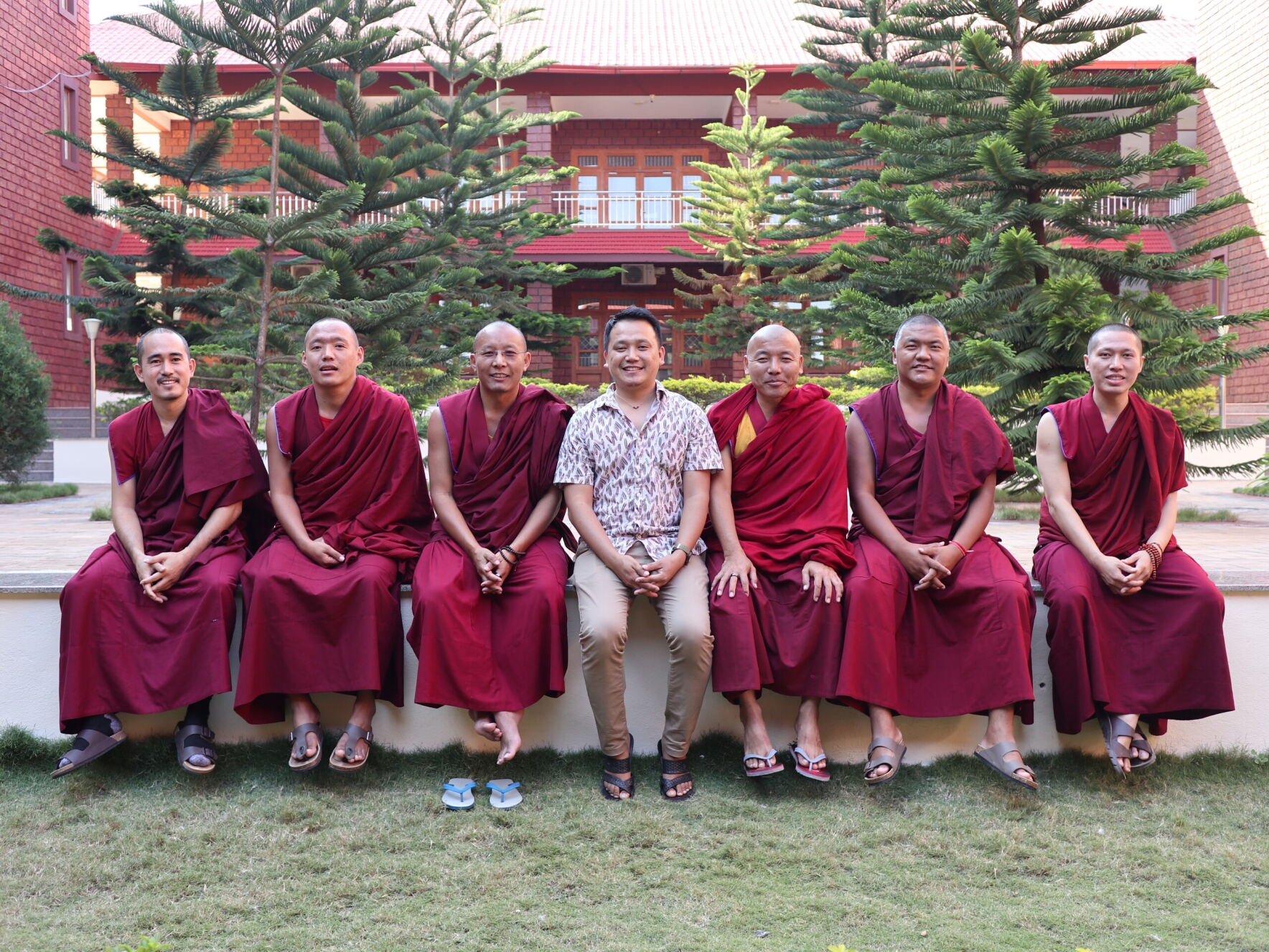 Sustainability Participants from Sera Jey monastery with their Graduate Science Teacher, taken at the Drepung Loseling Science Center, 2023. Pictured from left to right: Anil Gurung, Jampa Thakchoe, Tenzin Jangchup( Science Teacher), Geshe Ngawang Norbu, Pasang Dorjee Sherpa, Kaden Gyatso. Not pictured is student Geshe Thabke
October 2023 - Winter Intensive Programs for ETSI Sustainability Phase Year 3 and the 15th International Conference on Standardizing Scientific Terms in Tibetan
While the Center for Contemplative Science and Compassion-Based Ethics (formerly the Emory-Tibet Partnership), celebrates its 25th anniversary, the Emory-Tibet Science Initiative prepares for its winter programs. 
This winter, much like in 2022, ETSI is organizing three major events at the Drepung Loseling Meditation and Science Center in Mundgod, South India. 
15th International Conference on Standardizing Scientific Terms in Tibetan 
At the outset, ETSI is hosting the 15th International Conference on Standardizing Scientific Terms in Tibetan, which is scheduled to take place from November 22nd to 30th with participants from eight institutions including the Library of Tibetan Works & Archives, Monlam Tibetan IT Research Center, the Terminology Section of the Department of Education—Central Tibetan Administration, the Medical Department of Sowa Rigpa—the Central Institute of Higher Tibetan Studies (CIHTS) in Sarnath, and the Tenzin Gyatso Science Scholars from several Tibetan monastic institutions. 
Since 2009, ETSI has successfully organized 14 Translation Conferences with the primary objective of generating scientific terminology that is currently absent in the Tibetan language. Through the standardization of these scientific terms, the conference enhances access for Tibetan monastic communities as well as Tibetans at large. 
On average, approximately 500 new words are coined and finalized each year and then disseminated among the monasteries. Over the years, these conferences have contributed to the establishment of more than 6,500 scientific terms. In the previous year alone, the panel successfully finalized 737 new terms, particularly in the fields of neuroscience, biology, physics, and science pedagogy. 
ETSI Winter Intensive Programs:  
Following the translation Conference, ETSI will host the Year 3 Sustainability Phase Winter Programs, which encompasses two central components: Year 3 Research Training and the Year 3 Translation Workshop, with participation from more than 60 people from ten monastic institutions, including a number of former Tenzin Gyatso Science scholars.
The overall focus of the ETSI Sustainability Phase is to equip monastic students with the skills and knowledge necessary to conduct research and develop pedagogy curricula they can teach in classrooms. For the past several months these students have been engaged in research projects and pedagogical development projects, and actively involved in both research projects and the creation of pedagogy curricula with the intent to submit their work by the end of this year. This includes a combined total of 8 research projects, many of which are original studies, and 9 short courses.
Monastics are learning how to combine their spiritual training with their scientific training to be better students and teachers. 
Graduate Science Teacher Tenzin Jangchup, from Sera Jey Monastery, who is supporting a group developing a physics course on "wave-particle duality," shared that the course development project has been a great learning opportunity for the monastic students. Aside from deepening their content knowledge, the students think about ways to present the concepts clearly. They have learned that "making [a] simple and cheap demonstration model for explaining [a] profound topic is quite challenging."
These are not just science projects the monastics are creating, but lesson plans being built and refined such as Pedagogy Group 4's project, "Timeline of Common Ancestry," which Jangchup says, "explores the shared evolutionary history of diverse species, demonstrating the interconnectedness of all life…"
He said, the group lives by the motto, "Engage, Explore, Explain, Elaborate and Evaluate to ensure that our students remain engaged and the concepts are well communicated."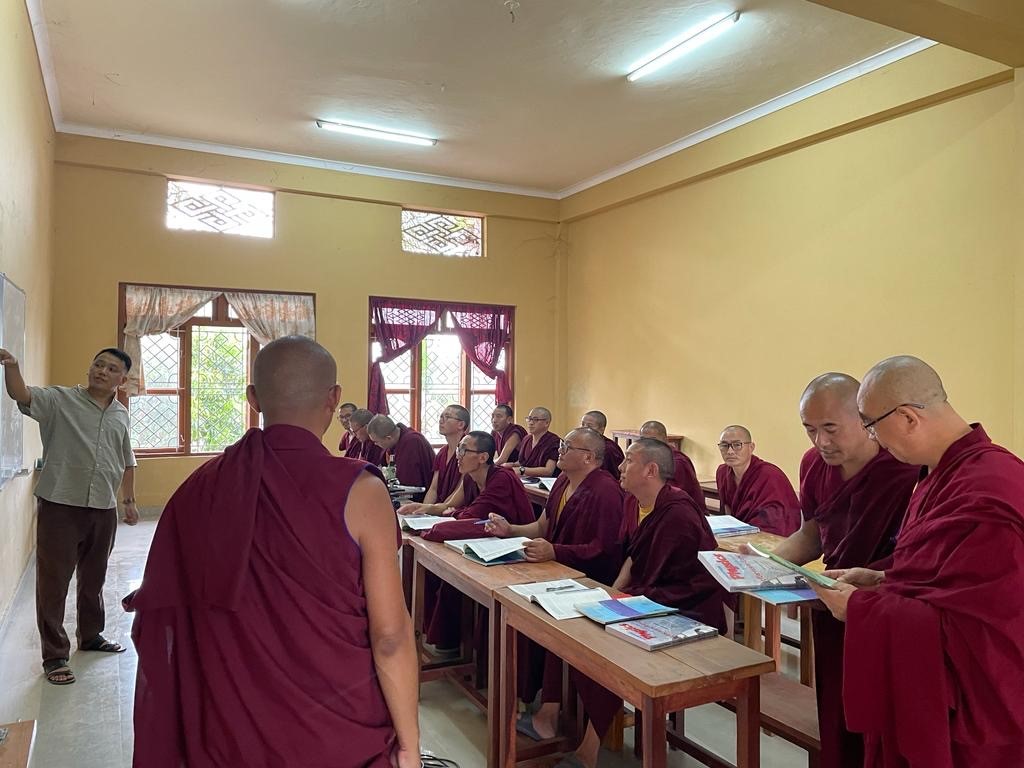 Tenzin Jangchup instructs a class at the Sera Jey Monastery, Mundgod, India
About Group 4, Jangchup added, "We have come to appreciate the value of feedback among teachers which can lead to continuous improvement in teaching techniques and the importance of adapting teaching methods to students prior knowledge and keeping them engaged."
Students in Research Group 8, have been working on "Brain Activities of the Analytical Mediation on Cittamatra and Prasangika Madhyamika Philosophical Views." Jangchup explained, because these Tibetan meditations involve an analytical thinking process, that "there might be changes of frontal theta activity that can be explored. This pilot study might influence the practitioners that might change their world views, and this could eventually provide novel methods to enhance the regulation of emotions."
Dr. Kelsey Gray, ETSI's assistant biology faculty leader, who has been mentoring and guiding the student groups along with more than twenty other faculty mentors, says: "I am excited to see that participants in the Pedagogy training program are creating lessons that prioritize topics involving the combination of Buddhism and science. This is bringing into reality the vision of the efforts of the Emory-Tibet Science Initiative over the past 25 years."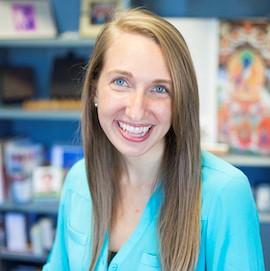 Dr. Kelsey Gray, Senior Instructional Content Developer and assistant biology faculty leader, ETSI
"These lessons serve as excellent examples of the ways in which the two disciplines can interact and inform one another to creating new meaningful possibilities in education, science, religion, and society," she adds.