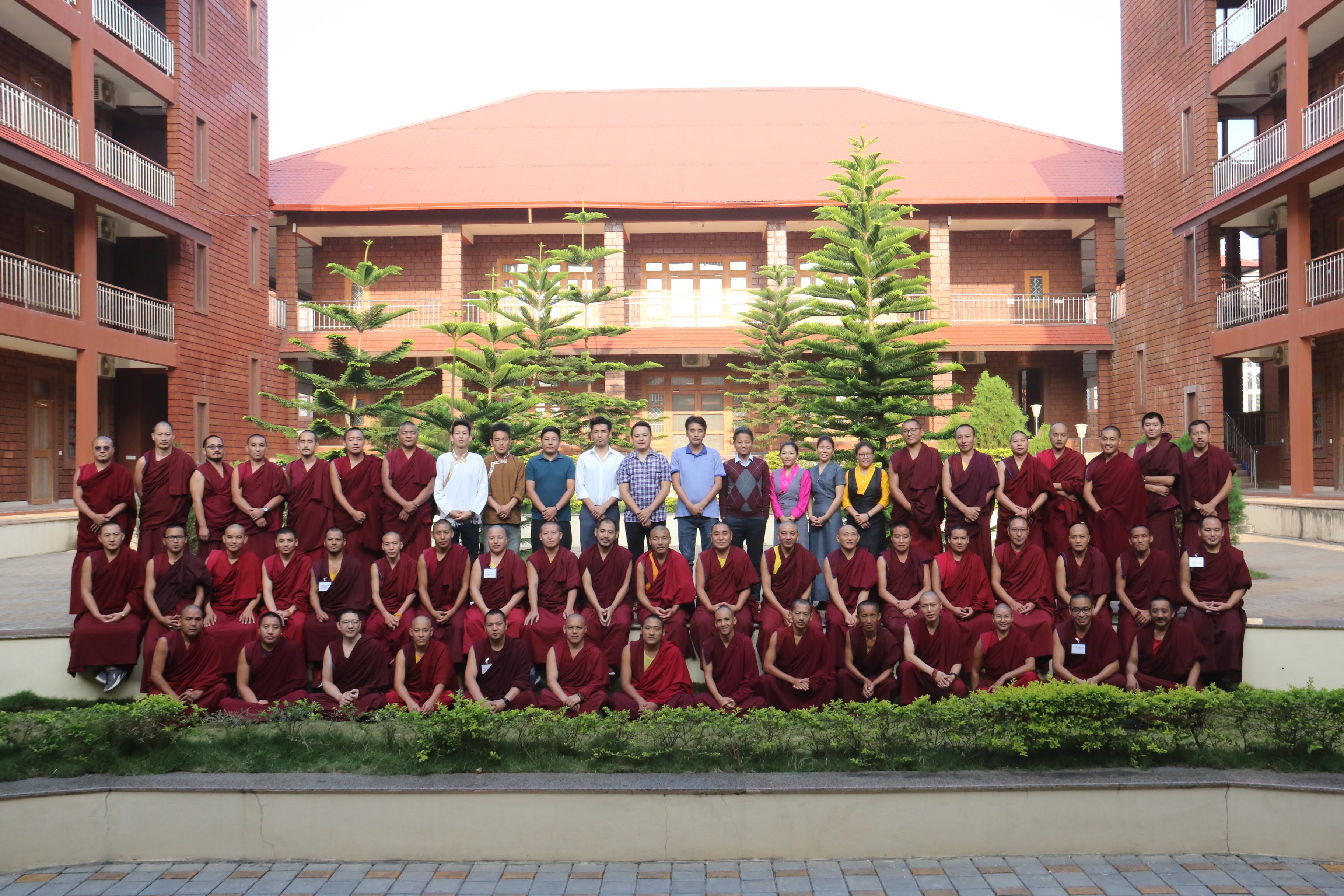 Year 1 Sustainability Phase Winter Intensive Program Launched
January 2022 -Year 1 Sustainability Phase Winter Intensive Program Launched
ETSI launched its Year 1 Sustainability Phase Intensive Program this winter with a 5-day ETSI Translation Training followed by a 12-day Research Methodology Training at Drepung Loseling Meditation and Science Center, Mundgod, India. 
The initial portion, the ETSI Translation Training, was held November 30th through December 4th, 2021, and included 60 monastic students. The participants include former Tenzin Gyatso Science Scholars, graduate science teachers from different monasteries, and monastic students from 10 monastic institutions.
This hybrid workshop, facilitated by ETSI translators Geshe Dadul Namgyal and Dawa Tsering, introduced traditional and modern translation principles, cross-cultural and cross-disciplinary communication, specific techniques for science translation, how to adapt to linguistic differences in translation.
Ven. Lobsang Dhondup, a former Tenzin Gyatso Science Scholar, reflects: "This translation workshop has been very meaningful and a joyful experience. Everyone engaged interactively and found the topics to be enriching."
The second portion, the ETSI Research Methodology Training, was held from December 6th through December 18th, 2021, and engaged 61 participants from 10 different monastic institutions in intensive hybrid training. ETSI research faculty leaders Dr. Robin Nusslock and Dr. Nicole Gerado conceived, designed, and offered the training with support from guest speakers and faculty members, including Dr. Ken Paller, Dr. Meena Balgopal, Dr. Jenifer Mascaro, Dr. James Glazer, Dr. Charlie Lane, Dr. DeeDee Wright, and Dr. Michaele Martinez. ETSI graduate science teachers facilitated the onsite practical sessions.
The monastics learned about the scientific methodology, designing new experiments, data collection, and organization. They got hands-on experience in designing individual projects, many for the first time, and using mobile EEG and wearable technology to collect data on sleep. They learned to read, plot, and interpret qualitative and quantitative data they gathered with help from the faculty and the onsite facilitators.
On the last two days, amidst much excitement and enthusiasm, the student groups took turns addressing questions they were studying. Does engaging in Tonglen (giving and taking) practice affect sleep? Can mental recitation of texts before bedtime improve the quality of sleep? What is the impact of an afternoon nap on daily routine and emotion? Do energy drinks affect our sleep? Though strongly limited by the small sample size and short duration of the studies, the findings stimulated ideas for future studies.
Kalden Gyatso, a former Tenzin Gyatso Science Scholars from Sera Jey, reflects the sentiments of the workshop participants as he writes, "I felt fortunate to [have] the opportunity to engage in our own research question and present results in graphs. It was a practical way to learn a lot in a short time!"
In her thank-you speech, ETSI's Associate Director Tsetan Dolkar remarked that this intensive workshop signifies a step closer to realizing His Holiness the Dalai Lama's vision to bring a sustainable science education program into the Tibetan monastic institutions. She hopes that this collaboration between science and Buddhism could "lead to the creation of new knowledge and bridging of complementary systems of ideas, thoughts, and practices," benefiting the entire humanity.