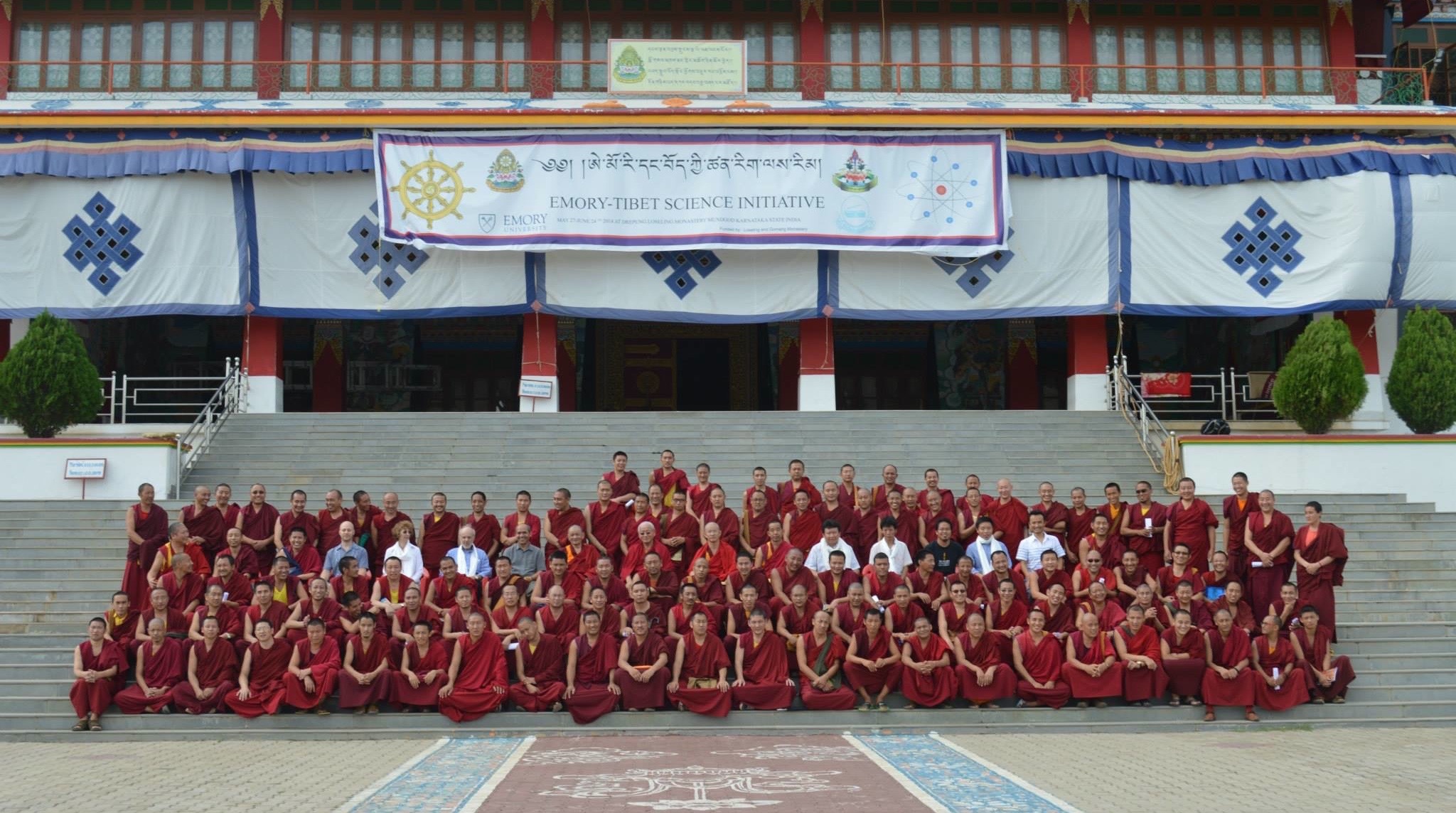 PROSPECTIVE FACULTY INFORMATION
The ETSI program represents the most significant change in 600 years to the Tibetan Buddhist monastic curriculum and we are looking for interested science educators to support this historic endeavor. Teaching for ETSI is a fascinating and challenging experience, but may not be for everyone.  For those who have participated over the years, the personal and intellectual experience has been a unique, enjoyable, and enriching one.  If you think you are interested in applying to become a volunteer ETSI summer program instructor, please watch this video and read the material below. 
CLICK BELOW TO WATCH THE ETSI ORIENTATION VIDEO
THINGS TO CONSIDER
A few questions to reflect upon when considering this opportunity
By Kelsey Marie Grey
Biology & Neuroscience Faculty, ETSI Summer Intensive Program, 2018
Are you willing to dedicate about 2 weeks of your summer to this immersive experience Our visits to Tibetan Monasteries include 7 instructional days and 1 day for review/exam. We teach 6 days per week and the teaching day typically consists of three or four 90-minute sessions, with breaks for tea and lunch. Instructors often meet before and/or after class to ensure learning objectives are met, generate and grade assignments, set up for activities, etc. There are often optional (but encouraged) events in the early morning, evenings, dinners, and celebrations that will introduce you to Tibetan Buddhism and culture. To make the most of your experience, we recommend not to expect to get too much other work done during your visit.
Are you able to travel in a developing country? Our monastic hosts go above and beyond to ensure the comfort and health of visiting instructors ie. searching for and buying water heaters or certain kinds of soda pop upon request! This being said - air conditioning, electrical power, internet, and hot water for showers may not be available at all times. (Many of the classrooms are equipped with backup generators). I found it enjoyable to embrace this – a little time spent unplugged and some cold morning showers can be quite invigorating!
Are you willing to make advance travel plans? Be prepared to have a round of vaccinations and to obtain needed medications prior to traveling. Transportation and local government offices function on their own schedules. Advance planning is necessary to make sure your passport is up to date and to supply required forms and personal information to procure visas and permissions to visit the monasteries. We greatly appreciate receiving these form and other information on time - ETSI is coordinating travel for over 100 faculty for summer 2019 and following a timeline helps us out a lot!
Are you willing to allocate time to prepare teaching materials? Faculty create videos, in-class learning materials, and activities based on existing ETSI resources. These will be shared through Emory Box and a resource website. The exact process depends on the discipline you will be teaching, but all classes require some preparation.
Are you willing to work with other instructors and staff to ensure that the learning objectives are achieved? It is usually helpful to be in the classroom with your co-instructor as much as possible (even when you are not leading the class) to handle unexpected setbacks, participate in group curricular activities, or to provide other assistance. Some examples include handling technical problems with equipment, helping with board work and translations, handing out papers, answering questions, and participating in hands-on activities. We often hear from instructors that they catch themselves addressing the translator, rather than the class, while teaching. It may be helpful to have someone give a hand signal to direct you back to the class if you notice this happening.
Are you willing to be flexible with classroom activities and attend to administrative and technical issues? Flexibility and adaptability are key!! As unexpected events such as loss of power, unscheduled celebrations and dignitary visits, unavailability of materials, and other monastic responsibilities can occur, the schedule of events may need to be altered during the visit. Additionally, topics that require more or less classroom time may become evident. Common topics that need reviewing include basic math and graphing skills, basic vocabulary and concepts, and hypothesis testing. It is up to the team of instructors to use their best judgment to manage the schedule to achieve learning goals. One of the most common pieces of feedback we have received from faculty after teaching is that they would reduce the amount of content if they were to teach again. It may be helpful to think about emphasizing the process of science, rather than covering a large amount of material. We have also found it to be beneficial to leave time for covering topics that arise that are of particular interest to the students – even if these were not highly emphasized in the original lesson plan.
Are you comfortable with broad questions about science and the scientific method? While you are teaching specific topics in science, you may receive questions both in and out of class that are much broader. In particular, Buddhist philosophy has well-defined concepts regarding consciousness, emotional regulation, cosmology, and causality that are particular topics of interest. We encourage you to embrace uncertainty. Use these moments as opportunities for discussion and exploration with monastics and fellow instructors.
Are you open to other systems of thought and other religions as equally valid to your own? The goal of ETSI is not to convert monastics into career scientists, or even to convince them of the validity of scientific methods. Through this effort to have a two-way exchange of scientific and Buddhist concepts both teachers and students may expand their worldview, and perhaps fruitful synergies will arise. We have found being a part of this initiative to be a unique opportunity for personal, intellectual, and spiritual growth. We hope you will allow for this experience to transform you as a scientist, educator, and beyond.
EXPERIENCE SHARED BY ETSI FACULTY
About the Students
"The Tibetan Buddhist monks I taught are eager to understand how everything works in this world. They are passionate students, with sharp, critical, and creative minds. They are an absolute joy to interact with and remind me that there is honor in teaching and that we can all be a little kinder and more compassionate to others." 

Cindy Nicole Achat Mendes, Associate Professor of Biology, Georgia Gwinnett College.

"I enjoyed the experience quite a lot, although it felt as though we were just getting started by the time the classes ended. I was really struck by the enthusiasm of the students, and their interest in the material itself, as well as their efforts to reconcile the two rather different world views. I hope they got as much from the experience as I did." Lee E. Miller, Professor of Physiology, Northwestern University.
"The monks are, in general, very good students. The class learning outcomes aren't great because of the condensed nature of the course, and there is quite a bit of variation in the level of learning among the monks." Martin J. Kamela, Associate Professor of Physics, Elon University.
"This was my fourth year teaching in ETSI. It is always so enriching to work with the monks; each year I think I learn more from them than I could possibly have taught them. They are such keen thinkers and interlocutors; it's really a pleasure to be able to collaborate with philosophers and scholars of such distinction." Jessica E. Locke, Assistant Professor of Philosophy, Loyola University-Maryland.
"I had an experience of a parallel world that was fascinating in so many ways. The monks were very curious and interactive and I enjoyed very much to teach them and discuss mind-brain-consciousness questions with them. It is clear they have much understanding of the mind and the dialogue and debates with them were very interesting. Living inside the monastery but not as a tourist but as a regarded teacher was very special. I felt very welcome and allowed to be a witness of their life, practices (such as the analytical debates they practice four hours a day!), pujas and rituals." Nava Levit Binnun, Professor of Psychology, Interdisciplinary Center (IDC) Herzliya, Israel.
"I thought it was a completely amazing experience. I have taught for almost 30 years and I felt that this was the highlight of the teaching aspect of my career. The students were so engaged, attentive and excited to learn, that despite the many challenges of the environment (often no power or A/C for example), it was a completely rewarding experience every minute I was there." David Kimelman, Professor of Biochemistry, University of Washington.
Teaching Experience
"The monks are wonderful students to teach, and learn from. They are fully engaged with the teachers, their fellow students, and the translators. I learned how to team teach and use improvisational theater in the ETSI program - I became a much better teacher and, unexpectedly, a better science spokesman for investors and the lay public." Thomas M. Wilkie, Associate Professor of Pharmacology, UT Southwestern Medical Center.
"Teaching the monks and nuns has given me an entirely new perspective on teaching and why it is valuable to study science. Preparing these courses means that I think about how concepts can be translated clearly, what prior knowledge/ideas the monastics have, and what are the most important skills/ideas that the monastics will learn. This has strongly influenced the teaching that I do back in the US. It is also a great experience to work in a team with other instructors and translators. I see different ways of teaching, get ideas about new demos/analogies/labs, and receive helpful feedback on my own teaching. I've even learned a lot of physics - the monastics ask some really interesting questions that the instructors don't always agree on. These discussions with other instructors have been really valuable, in that I have often found limitations in my own understanding of physics." Nicole Ackerman, Assistant Professor of Physics & Astronomy, Agnes Scott College.
"The monastery is peaceful. The monks are engaging. Working with the monks provokes deep reflection on what to teach and how to teach. I thoroughly enjoy sharing and learning with them through the ETSI program." James E. Berleman, Adjunct Assistant Professor of Biology, St. Mary's College of California.
"This was my sixth year teaching with ETSI. I would come the full 100 year's described by HH Dalai Lama, if I could!! Each year I become better at teaching the material in memorable and meaningful ways for the monks. I have loved each trip and overall the change so evident in the students." Anna Edlund, Assistant Professor of Biology, Lafayette College.
How this has affected my teaching
"I have found it to be very rewarding for me personally. However, I'm never sure that I am getting as much across as I would like. It seems like focusing on the "big picture" rather than details has been the most rewarding for connecting with the students." Philip G. Morgan, Professor of Anesthesiology and Pain Medicine, University of Washington.
"Very intensive. It reminded me of why I fell in love with physics in the first place. The monks are very engaged and passionate. The type of student you wish for in the west. The language barrier is a problem though, not during lecture but at all other moments. Faculty and translators of all years work together collaboratively." Arlette Baljon, Associate Professor of Physics, San Diego State University.
"It is hard to summarize just how special this experience is. I have never been so embraced by a culture so different-we were welcomed and our presence valued in a way that you could actively feel. In the classroom, I learned more from the students than I thought. I learned that what is important is the core concept and creative ways to distill the core concept without relying on terminology or huge ideas." Joanna M. Wardwell-Ozgo, Postdoctoral Fellow, Department of Cell Biology, Emory University.
Bridging two traditions for a better world
"It was extremely nourishing and rewarding to contribute in this way to the growth of science in the Tibetan monastery and have this rich exchange between our cultures. Monks were very curious and engaged and it was a pleasure to interact and share knowledge with them. It was also fascinating to be in a different environment." Nikolai Chapochnikov, Research Fellow, Center for Computational Biology, Flatiron Institute-NY.
"This was an incredible life-changing experience for me. To be one of the 1st generation of educators in His Holiness's 100-year vision is an incredible honor. I am already looking forward to the next year!" Andrew M. Kazama, Lecturer of Psychology, Emory University. 
"I am very proud of my participation in this unique program. Not only do I feel that the scientists and monastics are working hard to accomplish the stated mission of His Holiness the 14th Dalai Lama, but I also feel that there is a much needed synergy that develops between the two group that benefits both communities. This was a life-changing experience for me." Paul Garcia, Assistant Professor of Anesthesiology, Emory University.
"I am truly grateful to have the opportunity to participate in the ETSI summer intensive program. It was a unique and very valuable personal experience for me. The dedication of the monastic students to their study was truly inspirational! Their excellent and often unexpected, original questions made me think about Modern Physics at a deeper level and with new perspectives. Through the process, I also got to learn more about Tibetan Buddhist Philosophy and Tibetan Culture, in addition to having a glimpse into the Tibetan Buddhist monastic life. This two-way exchange between Tibetan Buddhism and Modern Science is important and I hope it will continue!" Mu-Chun Chen, Professor of Physics & Astronomy, University of California, Irvine.
"It is difficult to find sufficient superlatives to describe my experience participating with ETSI. My experience was exceptional. It was wonderful. I brought four others with me this time (three more Physics teachers) and I hope to bring even more teachers next time. Outstanding! I am deeply grateful for the opportunity to have spent time with you all. It has touched me in ways I cannot begin to describe." Paula Willis, Adjunct Assistant Professor of Physics, University of North Carolina, Asheville.
Monastic Culture
"It has been a wonderful four years of participating in the program. I have always left wanting to have learned more about the beliefs and worldview of the monks themselves. I ended up having some conversations with individual monks about Buddhism but I have always wished there was a bit more of a back and forth in knowledge -transfer." David M. Pena-Guzman, Assistant Professor of Humanities and Liberal Studies, San Francisco State University.
"It was a really unique opportunity to experience this monastic environment from the inside. I feel very grateful for having the chance to do this, and to meet so many wonderful Tibetans, monks and lay people alike. I learned a lot and felt very respected. I am so happy I went." Michael Lifshitz, Postdoctoral Fellow, Department of Anthropology, Stanford University.
"Rewarding in that I can work with people who genuinely want to know and learn, and help me learn how they think of or are affected by the topics we are teaching. I can't say enough good things about this exchange, and how it has improved my thinking and consideration of others. I hope the monks are able to use what we have discussed in their lives to train others as I know I will use what I have learned to train others." Valerie Haftel, Associate Professor of Biology, Morehouse College.
"I had wonderful experience and enjoyed every bit of ETSI teaching at the monastery. One thing that amazed me at the monastery was that everyone was very helpful and respectful which is very hard to see now days. I loved the students and their continuing ability to learn science despite being so busy with their monastic schedule. Being Indian born, I felt the monastery was a very safe and enjoyable place. I enjoyed teaching the monks in Hindi and English both. It was a nice experience teaching in my language (Hindi) to the monks after so many years. The students also enjoyed I think as they asked me to teach them in Hindi (for those monks who spoke Hindi). I would like to learn Tibetan language (I wish ETSI while being at the monastery can also engage ETSI faculty in learning basic Tibetan language). Truly speaking ETSI teaching was the best job ever and would like to continue contributing to it. I thank ETSI for giving me the opportunity to participate in this program. Look forward for next year ETSI teaching." Dimpal Chauhan, Staff Scientist, SNOLAB, Canada.
"I enjoyed the teaching experience and learned a tremendous amount about Tibetan Buddhism, compassion-based meditation training, and teaching science." Janice R. Naegele, Professor of Biology, Wesleyan University.